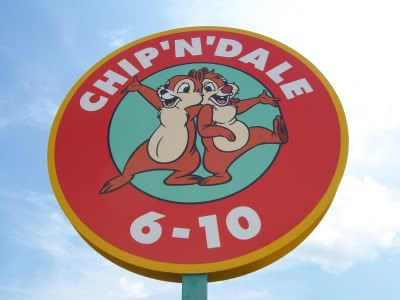 I talked briefly of creating Magic yesterday I think before you consider how you can make magic for the guests, you should just sit back and think for of the magic Disney has made for you. Let's face, if you are reading this then chances are Disney has had an impact on your life. Today I am talking about a special type of moment…..the moment that you realize, "I'm at Walt Disney World." This moment can come from getting your tickets, passing through the property gates for the first time, checking into your hotel and seeing Disney everywhere, or your first step on Main Street of the vacation. These moments have become almost necessary in keeping up the magic of Disney everytime you go to the parks.

Here are two of mine
My first moment that I know "I'm at Disney World" doesn't even occur on Disney property. When we drive up to Disney we get on the highway before mile marker one and we know that it's a straight shot north until mile marker 249. This is the exit onto Osceola Parkway which is a road that shoots right into Disney World. Well when I was young my parents were surprising us with a trip to Disney World and they didn't tell us until we were actually in the EPCOT parking lot. But when we were getting off at the 249 exit my dad turned back to us since we were constantly asking where we were going (let's face it, three hours in a car as a little kid feels like two weeks). And he started with a serious face but then changed it to a smile and said "We're here. Kids were going to Weiner World." We of course believed him and thought we were going to a hotdog theme park……Oh…..Boy. And from then on that exit serves as both a reminder of a great vacation and a landmark that tells me that we're there.
I live about three and a half hours south of the parks and because of this our family tends to leave for a Disney vacation in the afternoon so that we will arrive at night and get settled. This means that our park experience starts the following morning and 99% of the time, we start at Animal Kingdom. What's the ride we do first? Nope not Expedition Everest. Why would you say Triceratops Spin……I mean no not Triceratops Spin. The answer is Dinosaur. There is something complete about this ride experience that starts as soon as I enter the building and I'm met with the scientific ramblings of well…….Bill Nye the Science Guy. I then enter the theater where I am greeted what is arguably the second best preshow video in all the parks. The doors open up. I round a corner and as soon I step out onto the loading area and I watch the cars fill up and head out, I am filled with every emotion my body can hit me with. One near death experience and an Iguanadon later, I know that I am at Disney World.
Now It's Your Turn
I have told you two my "I'm at Disney World" moments and now I want to know what's yours. What is the moment that fills you with joy and makes you scream "I'm at Disney World?" In fact let's make this more interesting. Leave your moment in the comment box below before October 31 at 11:59 P.M. and I will pick one entry at rondom to win…..something. I don't know what yet and it probably won't be anything big but it'll be something and let's face it, a prize is prize. So just leave your moment in the comment box below and as always….
Have a Zip-A-Dee-Do-Dah-Day!!!