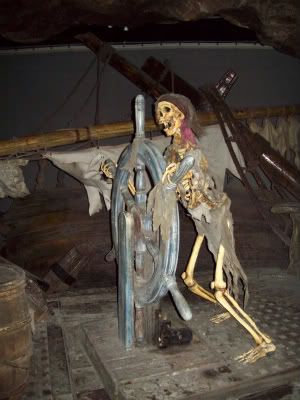 Dead Men Tell No Tales.....so chnaces are I'm not dead and that's a good thing.
Today and tomorrow I will be going over my three steps to having an enjoyable Halloween and fall seasons. Now I am aware that quite a few of my readers (I have readers, WHOA) are doing the Spring sessions and as such you may feel that you can't get something out of this, but I say try to pull out the ideas of celebrating the seasons. Also, on Friday I will talk about the best ways to celbrate those "smaller" holidays that fall in the Spring session so....yea. Enjoy!
Step 1: Be Festive
Before I continue I feel it is necessary for me to provide this disclaimer:
I AM NOT MARTHA STEWART. I AM A MALE COLLEGE STUDENT WHO WAS LIVING WITH FIVE OTHER MALE COLLEGE STUDENTS SO IF ANY OF THIS SEEMS UNINSPIRED REMEMBER: SIX COLLEGE MALES NOT MARTHA STEWART. OH AND AS LONG AS YALL ARE READING THIS, HOW AWESOME IS LOST? KATE IS ANNOYING BUT BEN LINUS IS PROBABLY THE COOLEST TV CHARACTER ON TV WITH LEROY JETHRO GIBBS FROM NCIS AS A CLOSE SECOND. WAIT AM I STILL TALKING IN CAPS? SHOOT! WELL THAT IS ALL.

The first thing to consider is that simplicity will out. What I mean is that you probably don't want to go cobweb crazy and you probably shouldn't be turning your apartment into a haunted house. I say this because it can get real old real fast and after a twelve hour shift, the last thing you want is to be bombarded with Halloween ho-ha everywhere (or maybe you do, I don't know). In fact, I recommend you decorate for the fall and not for Halloween. Some things consider include:
- Candles: For whatever reason, our apartment always seemed to smell stale. Our initial solution to this problem was sticking dryer sheets in the air vents which actually worked pretty well. Then one day in early October I was at Walmart with two of my roommates and they were having a sale on seasonal candles and we figured it couldn't hurt to try so we bought four Glade Apple Cinnamon candles. We lit them as soon as we got home and there was a considerable difference after just ten minutes and so we kept at least one candle lit at all times. It felt good to come home from work or the parks everyday and be instantly hit with the smell of fall. To be honest I think this was the biggest key to getting into the Holiday spirit for me.
- Decorations: Again, we didn't go overboard when it came to decorations. Thinking back on it, we only had about five pieces of fall décor around our apartment (granted we lived in Vista Way so we didn't have a big place to begin with). Now again, we didn't have anything specifically Halloween because we figured it would be good to have something for the season that would work well for Halloween but that we could also keep up for Thanksgiving and all (anything to make out apartment look better). We picked up a couple of small autumny (I'm coining that word) centerpiece items for our kitchen table, counter, and desk. Again, just simple autumn leaves and twig things we picked up on the cheap at Wallgreens. Then we also picked up two of those cinnamon brooms that they sell at Publix (local grocery store) that we hung up on our wall which both looked good and added to that autumn smell.
- Candy: When I say candy what I mean is a lot of candy. There is nothing better about Halloween then the day after Halloween when you are looking at the piles of "fun sized" candy that you still have around. We always had a bowl of some kind of candy going at all times. And we are not talking about a little cereal bowl with a couple Almond Joys and some Twix in it. NO! We had a huge bowl that you would see cooks preparing bulk salad in filled to the brim with everything from Skittles to Reeses and everything in between. Hey, either go big or don't go at all.
And again these are just a few of the things you could do to bring Halloween and the season to you and your apartment. Tomorrow we will take a look at Step 2 and 3 which include the best ways to do a costume party and Mickey's Not So Scary Halloween Party.
Have a Zip-A-Dee-
BOO
-Dah-Day!!!