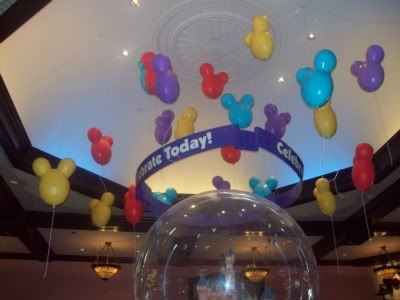 I had to limit today's post to only four letters otherwise the article would be way tooooooooo long. Doing the math would also tell you that chances are this won't only be a four part series. So Enjoy:
K Kutter
- Yes, that's Kutter with a "K", as in Kingdom Kutters. You see, sometimes it can be difficult with your work schedule and all to get to an outside hair cuttery or barber shop to maintain that ever fabulous "Disney Look." That's why Kingdom Kutters makes the list. You see deep within the labyrinth that is the Magic Kingdom utilidors lies a barber shop that caters to just to cast members. Bottom line, they do a good job, they are convenient, and they are relatively inexpensive. I do want to say however, between Kingdom Kutters and the one at EPCOT (its name escapes me) I prefer the one at EPCOT because the guy over there does a real top-notch job. But again, no matter which one you go to, you really can't go wrong.
L Living with the Land
- Sure, it's not Soarin or Test Track or any other E-Tickets at EPCOT, but (there always seems to be a but) it does have some really cool and really unique things going for it. For one, can you say Mickey Mouse shaped pumpkins? (I think that alone warrants this ride the "L"). Then there's the fact that a lot of the stuff (a word that encompasses the vast majority of horticultural products) grown in the Land greenhouses, tilapia and all, is served in many of the restaurants at Disney World. The Land also features some of the neatest (and cheapest) tours at Disney World.
M Mama Melrose's Ristorante Italiano
- Every mafia family in New York has that one Italian restaurant that they can come to umm…"conduct business." (Just ask Tony Soprano). If Disney were to have it's own mafia, Mama Melrose's is where they would gather. This restaurant, hidden in the back alley of Hollywood Studios by the exit of Muppet Vision 3-D, is one of the best restaurants you may not have eaten at. It starts with the ambiance; a dark but cozy little Italian restaurant lit by a random assortment of bed lamps and card table lamps, and a soundtrack ripped straight from a Rat Pack concert (plus Dire Straits' "Walk of Life). You add in some great chicken parm and wood-grilled shrimp and you have yourself an experience that you won't be able to "fuh'gett about." (Level 10 head slap pun)
N Norway Pavilion
- If you were to only look at one country's pavilion to get a feel for the spirit of EPCOT and Walt Disney World as a whole, they need only look at all that the Norwegian Pavilion has to offer. Let's start with the awesomeness (that's a word right?) that is the Maelstrom. It has everything you could want; Trolls, a waterfall, polar bears, a waterfall, Vikings, a waterfall, an oil rig, and a lesson (about what? Okay, I have no idea). Then there is Restaurant Akershus which features some amazing food and it is the one restaurant, besides Cinderella's Golden Table (but try getting reservations there), that little girls can meet and greet with all the Disney princesses. And of course, there is my favorite World Showcase treat shop, the Kringol Bakery. Here you can get so great orange crème brule or some amazing School Bread, giant bread roll with vanilla cream filling and caramel and coconut on top…..are you kidding me, talk about Norwegian nirvana. (Level 20 head slap pun)
*EXTRA BY REQUEST* M Monorail
- I remember a movie that we used to watch before all of our trips to Walt Disney World entitle Tiny Toons: How I Spent My Summer Vacation. And in it Plucky joins Hamm's family in a road trip that culminates in their arrival at Happy World Land (I wonder what that's a play on). The first thing they do is get on the monorail which shows them a preview of all the great rides ahead of them. Once they get off, Plucky all ready to get at it, Hamm's family promptly turns around and heads back to the car stating "We have to save some of the fun for next time." At the time , I couldn't imagine what it would be to get to Disney World, ride the monorail to the gates of the Magic Kingdom, only to find out we were heading home. However, when I was on the Program, I found myself from time to time catching a bus in the morning to the TTC. I would then proceed to the Contemporary where I would buy a newspaper, a drink, and a danish. Then I would get back on the monorail and just ride the monorail a couple of times around before going into the Magic Kingdom. While on it I would hear all of guest's plans for the day and see the kids get all excited at seeing Cinderella's Castle for the first time. It was a great way to start the day. It was at that point that I realized just how important the monorail was and is. It is many of the guests first view of the true plendor that is Walt Disney World. So "Please Stand Clear of the Doors. Por Favor mantenganse alejado de las puertas."
Have a Zip-A-Dee-Do-Dah-Day!!!!!!