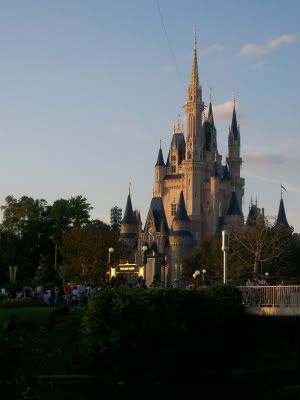 I can't express in words how good I feel right now people. I'm pulling an A in History of Civilization, I got an extra post out on Saturday because inspiration struck me so hard that it's going to leave a bruise, and I'm feeling optimistic about this week. This week, if it's any surprise to my fellow American friends, is
Give Thanks Week
. We are going to talk about the classes offered during the College Program because we are thankful that we aren't taking classes at our own college. We are going to talk about a great way to spend Thanksgiving for those of you doing the Fall and Fall Advantage 2010 program. I'm going to have a top ten list of things we are thankful for at the Walt Disney World Resort. And as always, there are going to be some surprises thrown here and there. Today we also have Round 2 of Magic Kingdom and Round 1 of EPCOT for the "Best Ride at Disney World" contest. And last but by no means least I have a video that I want each and everyone of you to watch. Seriously, if there is one link that I ever post on my blog that you must click on it's this one. It's a video I found on the web a little while ago made by a Disney World fan that ties in with this week's theme and answers the question, "What makes Disney so special. So let's have a great week my because although I haven't met a single one of you guys, I'm thankful this Thanksgiving for my Disney Family. God Bless!
The link to the video, watch it and add it to your favorite pages!
http://www.youtube.com/watch?v=9LBch91FqN8
THE CONTEST CONTINUES
At the end of Magic Kingdom: Round 1 we have nine rides remaining which means eight rides will battle it out this week and one ride will get a BYE until Round 3. Because it won with 100% of the vote, Pirates of the Caribbean takes the BYE for this week. Now because there are only four matches in the Magic Kingdom, I'm going to start EPCOT: Round 1 today as well. The featured matches of the week include a clash of two Disney Mountains and a battle between two of EPCOT's powerhouse E-Ticket attractions. Happy voting!
Magic Kingdom: Round 2
Mad Tea Party vs. It's a Small World
Peter Pan's Flight vs. Splash Mountain
Haunted Mansion vs. Buzz Lightyear's Space Ranger Spin
EPCOT: Round 1
Spaceship Earth vs. The Seas with Nemo and Friends
La Gran Fiesta Tour vs. Universe of Energy
Journey into Your Imagination vs. Maelstrom
Mission Space vs. Living with the Land
Featured Matches
Space Mountain vs. Big Thunder Mountain Railroad
Test Track vs. Soarin