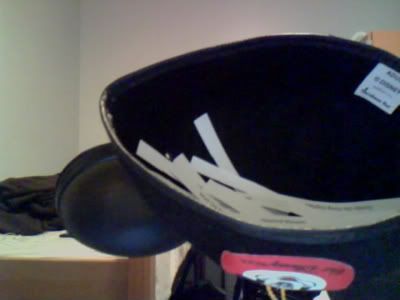 My "Magic" Mouse Ears for drawing the Attractions
Ladies and Gentlemen, today I have a couple of treats for you guys. First, I present a new interactive game for the Purple Folder. I also found a couple of Disney videos from Youtube that caught my eyes that should get everyone in the holiday (yes, the magical two months of Christmas)spirit. "Like a grand and miraculous spaceship, our planet has sailed through the universe of time. And for a brief moment, you have been among the many passengers of.....The Purple Folder!" (oh, that felt good!)
I mentioned yesterday that I was excited about today's post and I still am. We are going to be running a "Best Ride at Disney World" tournament. This is what will happen. Today I wrote all of the rides in the Magic Kingdom (with the exception of the Liberty Bell and the WDW Railroad) down on slips of paper. I then proceeded to draw the slips out of my "magic Mouse Ears one at a time and created a single elimination tournament based on the order they were drawn. Now it is up to you guys to vote for your favorite attractions and the rides with the most votes by next Monday will go onto next week's round. Then next week I draw the remaining attractions again and (because of the way the numbers work) one attraction will end up with a BYE. After we have the final three we will then go onto EPCOT and then Hollywood Studios and finally Animal Kingdom. The last couple attractions from each park will end up in one final tournament and the last ride standing will be pronounced the "Best Attraction at Disney World"……and umm….well that should be good enough. So let's have some fun with this. Cast your votes and as always, have a Zip-A-Dee-Do-Dah-Day!!!!
Here's a list of this week's mathups:
Magic Kingdom: Round 1
1. Buzz Lightyear's Space Ranger Spin vs. Astro Orbiter
2. Magic Carpets of Aladdin vs. It's a Small World
3. Splash Mountain vs. Goofy's Barnstormer
4. Snow White's Scary Adventure vs. Mad Tea Party
5. Pirates of the Caribbean vs. Indy Speedway
6. Peter Pan's Flight vs. The Many Adventures of Winnie the Pooh
7. Dumbo the Flying Elephant vs. The Haunted Mansion
8. Tomorrowland Transit Authority vs. Big Thunder Mountain Railroad
Featured Matchup of the Week
Space Mountain vs. The Jungle Cruise
Videos
The Emporium from "Attractions Magazine"
http://www.youtube.com/watch?v=5JYoqSmT0jI&feature=sub
It's a Small World Holiday Commercial
http://www.youtube.com/watch?v=zNF5CfjvfSM